The finest TRIMARAN and CATAMARAN designs.
By Edward B. Horstman, Naval Architect B.S.A.E.
Ed Horstman designs started in 1960 with the TRI-STAR 40. TRI-STAR 40 was the first Trimaran to race in the Multihull Transpack race to Hawaii in 1966; taking second place. TORTUGA TOO, a TRI-STAR 39 similar to the design pictured above was the first Trimaran (Sept 1979) to sail from east to west around Cape Horn, experiencing 100 mph winds. Crewed by Husband and Wife who previously build a TRI-STAR 35 and sailed it to Africa and decided to build the first and larger TRI-STAR 39.You will find builder pictures of the 38-42-43MC "Family" of Tri's in the gallery, showing TRI-STAR'S sculptured hull lines, spaces interiors, and spaces workable decks, comfortable doghouse. Typical features found on all TRI-STARS. Designs that have plans that are drawn and layed out for the first time builder. Designs from 14' to 80' that are being build and sailed around the world by the same first time builders.
Ed Horstman has drawn plans so they are easy to read by the first time builder. Plans cover all construction steps and include Full Hull Patterns along with my book Trimaran and Catamaran Construction. TRI-STAR hull building methods maybe either, Double Diagonal Plywood (DDP) or Foam Fiberglass Sandwich Construction (FFGC). Both building methods are covered fully in the plans and Tri-Cat construction book. For those planning to build using FFGC I include my FFGC book with plans. There are TRI-STAR designs sailing today that were build in late 60,s and 70,s using both methods of construction, some have been resold many times and keep on impressing there new owners with their sailing performance and, as always, their accommodations.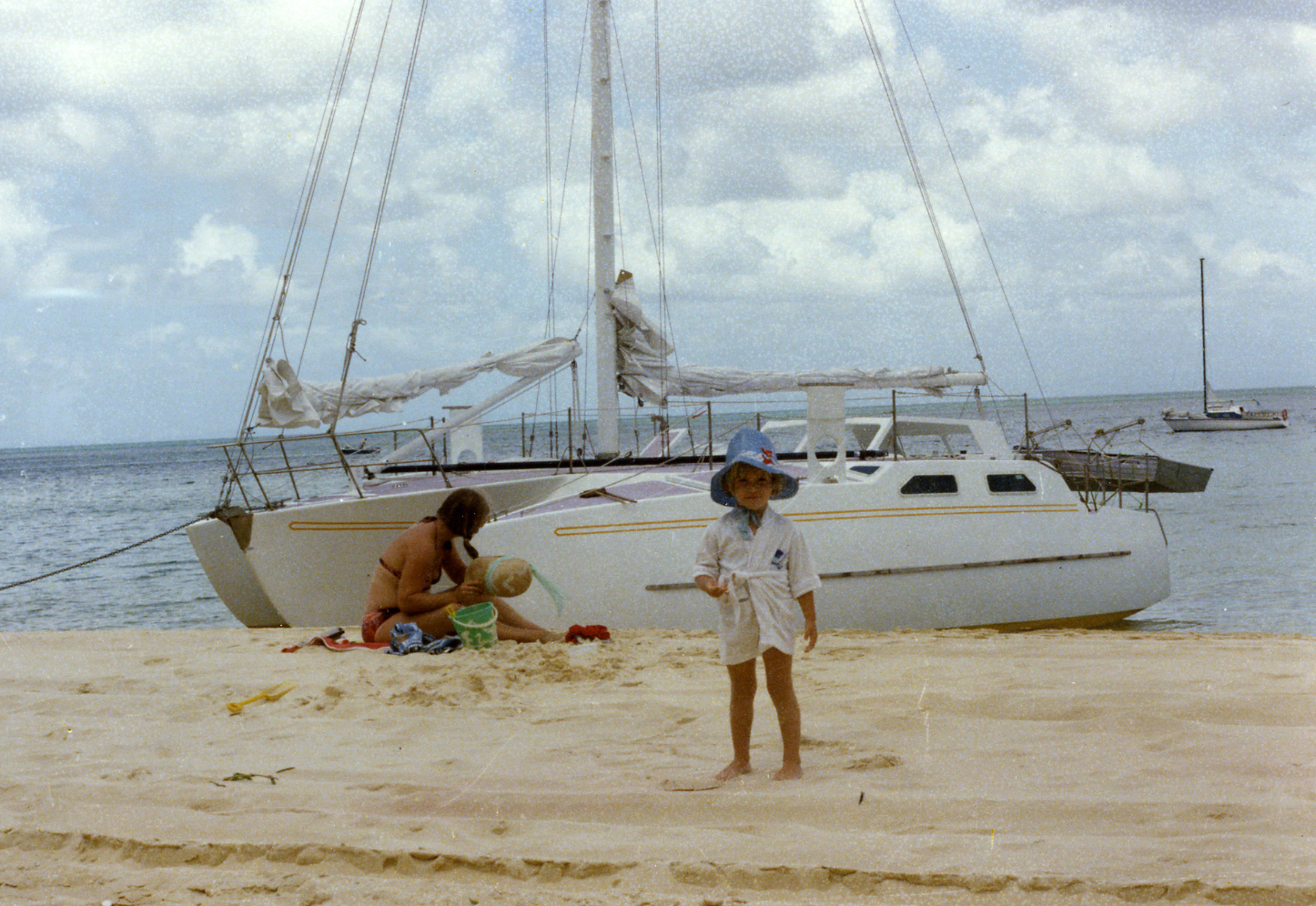 Trimarans and Catamarans are true "sailing enjoyment," take for example the TRI-STAR 42 pictured above with its bow resting on the sandy beach and all experiencing an enjoyable day on the beach. Trimarans and Catamarans are true sailing pleasure that starts with a fast and comfortable non-heeling sail. Trimarans and Catamarans are fun and easy to sail and faster than their heeling counterpart. You will find that when sailing at a very minimum angle of heel, you will enjoy your sail even more, be it a weekend sail or an extended cruise. Trimarans and Catamarans both have spacious accommodations you will enjoy; these are shown in the Interior Gallery section. Trimarans and Catamarans with their spacious decks and comfortable accommodations make sailing a joy and the lack of heeling make your sailing even more pleasurable as you are not rolling out of bed while sailing or at anchor. You truly will enjoy Trimaran and Catamaran sailing and it's easy to become accustomed to not having to hold onto your coffee mug when sailing.

Ed Horstman has over 45 TRI-STAR Trimaran or Catamaran designs you too can build from a selection of Trimaran plans from 18ft. to 104ft. and Catamaran plans from 14ft to 55ft. For more information and details then on my web site see my Catalog and or Study Plans. "I am sure you will find a TRI-STAR design you will enjoy building and become one of the many satisfied TRI-STAR owners sailing the world over. Happy Sailing Ed Horstman."